Zepter International is equally proud of the overwhelming recognition that it receives from loyal customers and representatives, as well as from various social institutions from around the world.
Zepter International has received multiple recognitions for being a leader in global trade, for technological advances, for reliability, for the consumers confidence in the Zepter trademark, for its promotion of health, but also for its contribution to the prosperity of people, for supporting hospitals and people in need.
Zepter products have been repeatedly awarded for their high quality, superior design, and for the promotion of people's health and well-being.
Finally, numerous personal awards have been given to Mr. Philip Zepter for astonishing results in trade and industry development, and for his global contribution to a healthy lifestyle.
Here are some of these signs of global recognition:
"KITCHENINNOVATION OF THE YEAR®" Best Consumer Friendly Product Award
2014 - Frankfurt, Germany
Zepter Smart Multisystem
"Awarded – Winning Product" for Functionality, Design and Innovation
USA ELLIS ISLAND MEDAL OF HONOR
Awarded to Zepter in 2011 for its outstanding contribution to the well-being of millions.
GOLDEN MERCURY (awarded 5 times)
1994, 1995, 1996, 1997 and 2010 - Italy
Awarded to elite companies in the European Community for advancements in technology and new and original products.
Awarded to Zepter International as the leader in Italian industrial progress.
"CAVALIERE DEL LAVORO DELLA REPUBBLICA ITALIANA"
1997 - Italy
Awarded to Mr. Philip Zepter for outstanding services rendered to Italian Industry and the Community.
B.I.D. GOLD AWARD (BUSINESS INITIATIVE DIRECTIONS)
2004 - Frankfurt, Germany
International "Arch of Europe" Award for Quality, Leadership, Technology and Innovation to Zepter International CH
Silberwarenfabrik Jager, Germany.
30TH GOLDEN AWARD FOR COMMERCIAL PRESTIGE
(NEW MILLENNIUM AWARD)
2000 - Madrid, Spain Zepter Holding.
14TH INTERNATIONAL EUROPE AWARD FOR QUALITY
2000 - Paris, France
Awarded by the Editorial Office and the Trade Leaders' club to Zepter International.
THE SIGN OF CHOLESTEROL PROPHILAXIS
1994 - Warsaw, Poland
An honour awarded to Zepter Cookware for its fight against cholesterol
Awarded by the Polish Organisation for Heart Protection to Zepter International.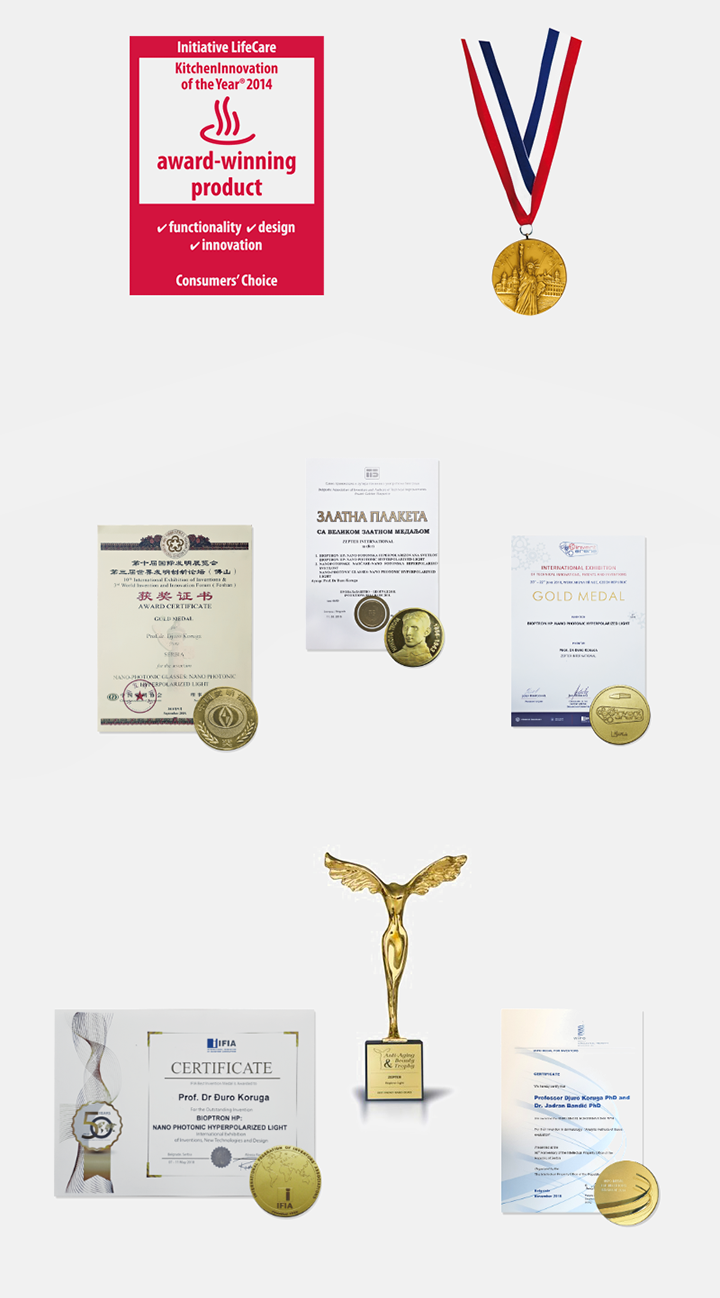 INTERCOSMETICA NEUCHATEL SA
Zepter's cosmetic research laboratories.
For research and development and for manufacturing high-quality cosmetics and perfumes: IQNet and SQS Certificate ISO 9001:2015.
BIOPTRON AG
TÜV Rheinland ISO Certificate for Quality Management System EN ISO 13485:2016.
TÜV Rheinland EC Certificate for the Quality Assurance System according to the Medical Device directive 93/42/EEC, annex II excluding section (4).
510(K) Clearance, for further information visit "510(k) Premarket Notification Database" http://www.accessdata.fda.gov/scripts/cdrh/cfdocs/cfpmn/pmn.cfm Our 510(k) No: K032216.
MENFI INDUSTRIA S.P.A
Zepter's Masterpiece Cookware factory.
Its Quality Management System is certified ISO 9001/2008